Per a report from TheBlock, Digital Currency Group (DCG) reached an agreement with crypto exchange Gemini. The two parties have been negotiating for months after the collapse of crypto lender Genesis, a DCG subsidiary, and the Gemini Earn program.
The event left thousands of users without funds, leading to several lawsuits and the destruction of the relationship between the Digital Currency Group and the trading venue. The founders of Gemini, Cameron and Tyler Winklevoss, were public about their negotiations and their objective of making their clients whole.
DCG And Gemini Could Exceed Expectations
The report claims that the partners proposed a new creditor agreement to return "all of the crypto held by the platform," when it filed for bankruptcy protection. According to the report, the new strategy aims to compensate clients with the following strategy and methodology:
(…) all unsecured creditors a 70-90% recovery with a meaningful portion of the recovery in digital currencies.
In addition, unlike similar processes, the new agreement would allow users to benefit from a potential upside in the price of Bitcoin and Ethereum. If these cryptocurrencies rise to $85,000 for BTC and $8,500 for ETH, clients would still receive an equivalent amount.
In other words, clients will receive their funds as they were when Genesis filed for bankruptcy rather than freezing the amount in US dollars. Genesis' parent company described the agreement as a:
(…) remarkable outcome for any liquidating chapter 11 case, let alone one in the volatile cryptocurrency industry.
TheBlock indicates that the new agreement is yet to be voted by creditors. The above clause, to allow clients to benefit from a potential crypto bull run, is aimed at incentivizing creditors to vote in favor of the proposal.
GBTC Gains Ease Recovery For Gemini Earn Users
DCG's $630 million loan to provide respite for its subsidiary would be repaid in cash, partially, and via a financial instrument to be settled by 2025. In addition to this loan, Genesis owes over $1 billion to Gemini's clients.
The report also notes that Genesis posted 60% of this amount as collateral as shares for the Grayscale Bitcoin Trust. The possibility of the US Securities and Exchange Commission (SEC) allowing the latter to convert into an exchange-traded fund (GBTC) has positively impacted its value.
Therefore, the discount between the GBTC and the spot price for Bitcoin has been declining and could continue to do so in the coming months for the benefit of Gemini Earn clients. The agreement stated as the report noted:
At current pricing, the Gemini User Collateral is worth approximately $607 million. If Gemini agrees to provide $100 million to Gemini Earn users under the Proposed Agreement, as it previously did, or to distribute even a small portion of the Gemini User Collateral to Gemini Earn users, there would be little doubt Gemini Earn users would receive a full recovery.
As of this writing, Bitcoin trades at $26,100 with sideways movement in the last few days.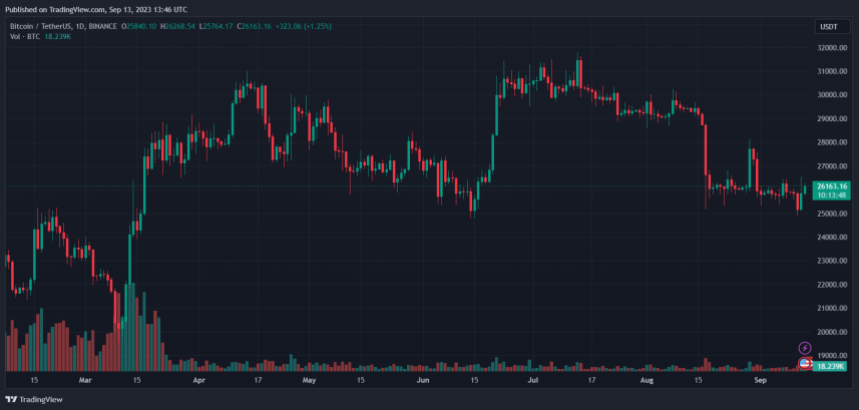 Cover image from Unsplash, chart from Tradingview
This article is strictly for informational purposes only. It is not a direct offer or solicitation of an offer to buy or sell, or a recommendation or endorsement of any products, services, or companies. CryptosOnline.com does not provide investment, tax, legal, business or accounting advice. Neither the company nor the author is responsible, directly or indirectly, for any loss or damage caused or alleged to be caused by, or in connection with, the use of or reliance on any content, goods, services or opinions mentioned in this article.
#Bitcoin #Crypto #Cryptocurrency