Two years ago, controversial artist Nelson Saiers sparked a debate when he erected a massive inflatable rat outside the US Federal Reserve building in New York; now, the creator takes another jab at a US institution with a new crypto art exhibition.
Crypto Art Exhibition Takes Jab At Scams
According to a release shared with NewsBTC, a crypto art installation was placed in front of the US Securities and Exchange Commission (SEC). This time, Nelson Saiers portrayed a street vendor offering "rug pulls."
In this latest protest exhibition, Saiers highlighted the crypto-based scam where the team behind a project disappears, leaving their community behind and "holding the bag" for an initial investment. The exhibit aimed to showcase the "ease" of these illegal activities.
Moreover, by setting the crypto art exhibit in front of the SEC, the artist potentially tried to send a message to the regulator: "rug pulls" happened right in front of the institution, seemingly without consequence.
This is the latest, but far from the only art exhibition where Saiers takes a hit on the US SEC and other financial regulators. As mentioned, the artist set an inflatable Bitcoin rat at the Fed's building in 2020 and 2018.
A few months later, as the crypto market was experiencing a bull run that took the price of Bitcoin into uncharted territory, Saiers called cheap on the Fed with his "Cheap Money is Out-of-Order." During this exhibition, which saw the sculpture of the Wall Street Bull interfered with a Saiers-made sculpture, the artist criticized the inflationary measures adopted by the financial institution.
Based in New York, Saiers completed a Ph.D. in mathematics and is a former trading group manager for Deutsche Bank AG and Chief Investment Officer for Saiers Capital. In art, Saiers is known as the "Warhol of Wall Street."
As of this writing, Bitcoin trades at $26,200 with sideways movement across the board. The cryptocurrency has been unable to break above or below its current trading range and will likely continue this trajectory until late September.
At that time, macro-economic forces will likely come back into the picture, stirring volatility into the market. In particular, the spot Bitcoin Exchange Traded Fund (ETF) narrative, mainly in the hands of the SEC, is bound to influence the price of the number one crypto by market cap.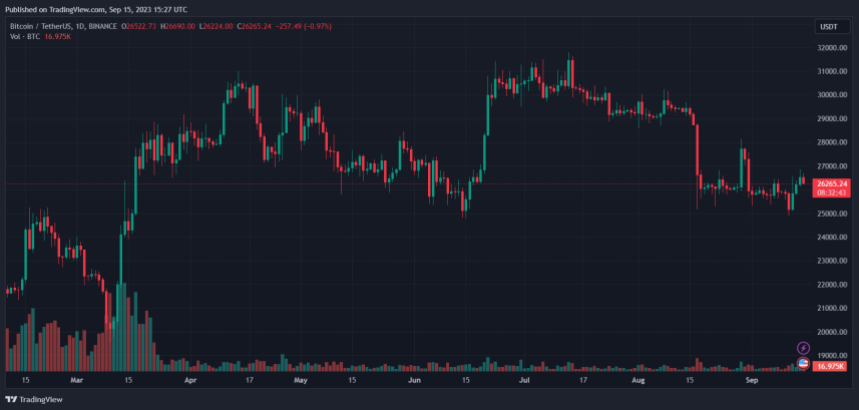 Cover image from Unsplash, chart from Tradingview
This article is strictly for informational purposes only. It is not a direct offer or solicitation of an offer to buy or sell, or a recommendation or endorsement of any products, services, or companies. CryptosOnline.com does not provide investment, tax, legal, business or accounting advice. Neither the company nor the author is responsible, directly or indirectly, for any loss or damage caused or alleged to be caused by, or in connection with, the use of or reliance on any content, goods, services or opinions mentioned in this article.
#Bitcoin #Crypto #Cryptocurrency